The OMET Hybrid Experience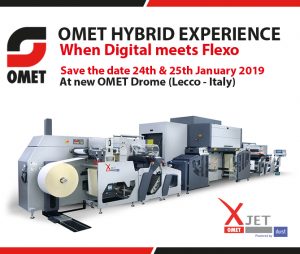 Visit the Experience Centre in Lecco, Italy.
24-25 January 2019
The new OMET XJet will show its hybrid printing performance.
Guests will also have the opportunity to attend special live demonstration on the iFLEX, set up in a hybrid curing configuration with UV and UV-LED.
The new OMET XJet is located at the new OMET production site in Molteno (Lecco – Italy), where guests will have the chance to see the wide range of OMET machines and take a look into the future of printing. Jet Technologies welcomes it's Indonesia customers to take advantage of this wonderful opportunity.